News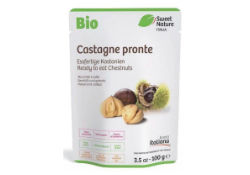 Ready to eat chestnuts
Our organically grown chestnuts are peeled, packed and cooked directly in the container. The organic chestnuts from the traditional growing regions of Italy are just as suitable as a healthy snack as well as an ingredient for a variety of sweet and savory kitchen dishes.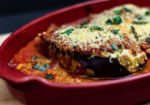 Melanzani alla Marlene
Slice the aubergines in half lengthways, leaving the stem intact.
Scoop out the aubergine flesh, so that you have 4 shells.
Meanwhile fry beef mince with onion in a pan and add
the chopped aubergine flesh and cook through
. Put the aubergines into the oven, sprinkle them with cees, butter and olive oil.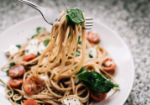 Cherry-Tomatoes with Pasta
Cut the cherry-tomatoes into half. Place cherry tomatoes on a baking tray and drizzle with high quality olive oil. Sprinkle with capers, salt, pepper and olive oil. Roast for 25-30 minutes at 200/250 °C until collapsed and lightly caramelised. Add the whole cherry-tomatoes to the spaghetti and add some mozarella too.